Dream 102.9 plays Worldbeat, Reggae, Latin, Dub, Chill & more……
Download the free radio.net app & listen to us on your apple or android phone !! Find both versions HERE.
---
Dream 102.9 FM Featured Artist
Every month Dream FM takes a closer look at some of the artists or bands in our playlist.
This month we are taking a look at Jungle Fire, an LA based TropiFunk Juggernaut.
JUNGLE FIRE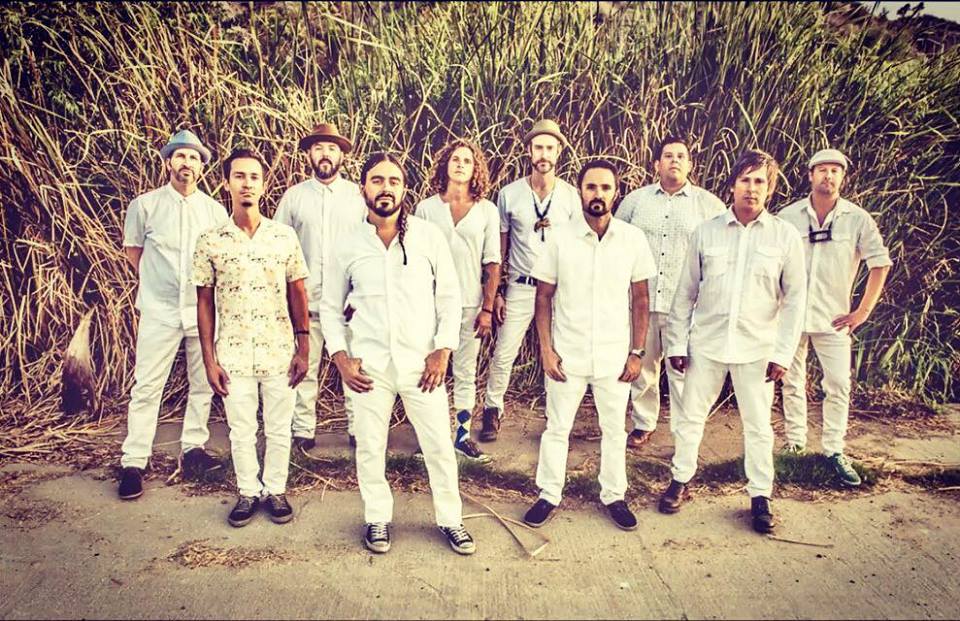 Jungle Fire has been billed as a "TropiFunk juggernaut." They are a musical collective composed of eight (or more) members who launched rather accidentally at one party in Los Angeles' Chinatown back in 2011.
Yet, with their musical magic blending Afro Soul, Latin Funk, Deep Funk with West African rhythms, they quickly earned a following in underground clubs across LA. It's these captivating live performances that fans fell in love with, and it's the fans who have refused to let this supposedly one-time project stop.
The early acclaim for their international and multicultural-infused sound led them to sign with Colemine Records in Ohio in 2012. Since releasing their first single, Comencemos, they have gone on to produce four studio records, including Tropicoso (2014), Jambu (2014), Jungle Fire (2020).
In an interview in 2017 with Seattle's KEXP, Alberto Lopez explained the differences between the first album to the second. In his words, "The first time we were just trying on the shoes, the second time we were taking them for a walk."
The usual Jungle Fire line up consists of Steve Haney (Percussion), Alberto Lopez (Percussion), Sam Halterman (Drums), Joey Reina (Bass), Sam Robles (Baritone Sax, Flute), Judson McDaniel (Guitar), Patrick Bailey (Guitar) and Sean Billings (Trumpet). They also often welcome guests into their fold, especially during their famous live performances.
In the KEXP interview, they explain the value of the big musical family because "It's a big sound, and in order to be big, we need a lot of players."
Although their latest self-titled album didn't get the world tour it deserved, as it was released just before the pandemic in February 2020, they are set to play again in March 2022. This year they will be touring on a small scale to select cities in the US, and in July will celebrate their 10th anniversary by opening the Hollywood Bowl Jazz Fest.

Recently Featured Artists
ALI FARKA TOURÉ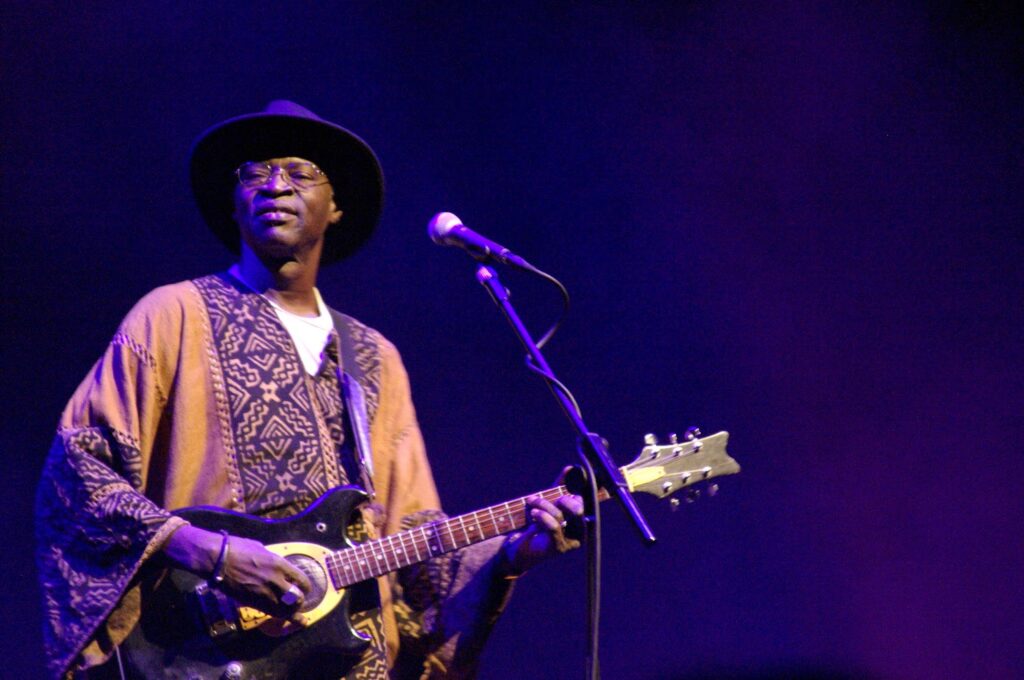 Ali Farka Touré was born in 1939 in a small village in the Tombouctou region of Mali. Farka, or "donkey" as he was nicknamed, followed an incredible journey over his 50-year career. Eventually, influencing an entire generation of blues performers and earning a spot on Rolling Stone magazine's list of the Top 100 Guitarists of All Time.
Born of the noble class, Touré began his musical career with a secret monochord made from a tin can. In a later documentary, Farka called the monochord "Most dangerous instrument in the world, because when you play it, you can hear it three km away." In Malian culture, only the lower caste was traditionally responsible for music, which made his first early childhood experiments with homemade instruments controversial.
In his adolescence, Farka pushed through these cultural barriers and began singing in seven languages at a national and international level. He also played additional instruments, including the guitar, violin, and flute.
He developed a unique musical style that blended both Malian rhythms and sounds with those from American blues in his musical evolution. Mali is a country often called the birthplace of the blues, and Touré's sound sits somewhere in between these two musical traditions, at a cultural intersection.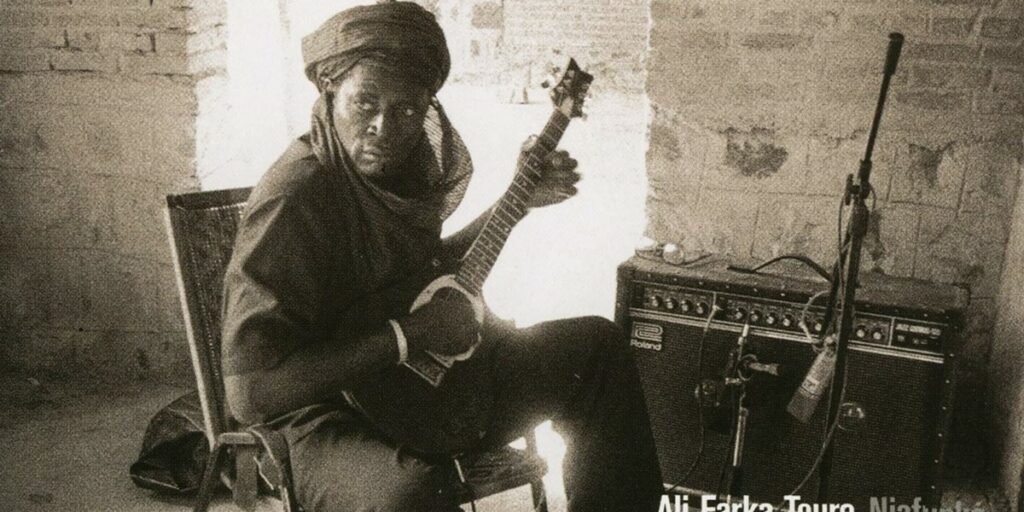 Despite his acclaim across the African continent, it wasn't until the mid-1980's that an international record label, World Circuit, accidentally stumbled onto his Red Album, released by Sonodisc in 1984.
This lucky accident led to Touré travelling to the UK for the first time in 1987, to record his debut album with World Circuit, who would continue to be his record label until he died in 2006. With nearly 20 albums released under his name (10 with World Circuit), his music has gone on to capture the attention of the world.
He has had several collaborations over the years (The Chieftains, Taj Majal, and more), won two Grammy's, and appeared in several films showcasing both African and blues music.
Although Touré is inexorably called the "The African Bluesman," he has always disagreed with this name. As he told Songlines, "People call my music the African blues. I just call it the music of the people.'" Another documentary quoted Touré explaining, "To me, blues is a type of soap powder, my music is older than the blues." The fundamental elements of the blues have always existed within Africa's many musical cultures. Touré was perhaps suggesting that it's actually American blues that has been inspired by him and not the other way around.
Even after his death, Touré's music lives on. His son, Vieux Farka Touré, follows his father's musical trajectory with an established international career of his own right. As Touré's name and music continue to appear in popular culture, he is, without a doubt, one of the most influential musicians of the last century.
RAS MUHAMAD
When most people think of Indonesia, Reggae isn't the first musical style to come to mind. But Ras Muhamad, the self-proclaimed Reggae Ambassador of Indonesia, has been passionately working to change that opinion since his first album, released in 2005.
Ras Muhamad was born in Indonesia in 1982 but spent his most formative years in New York. During the decade spent state-side, he was naturally introduced to the musical diversity presented within the Big Apple. Eventually, his musical explorations led him towards Reggae and Rastafari cultural traditions.
His debut album, Declaration of Truths (2005), may have been released in New York, but it earned him significant attention back in Indonesia. It was different, and it spoke to his generation. By the time he released his second album Reggae Ambassador in 2007, he was well on his way towards Indonesian and international reggae renown.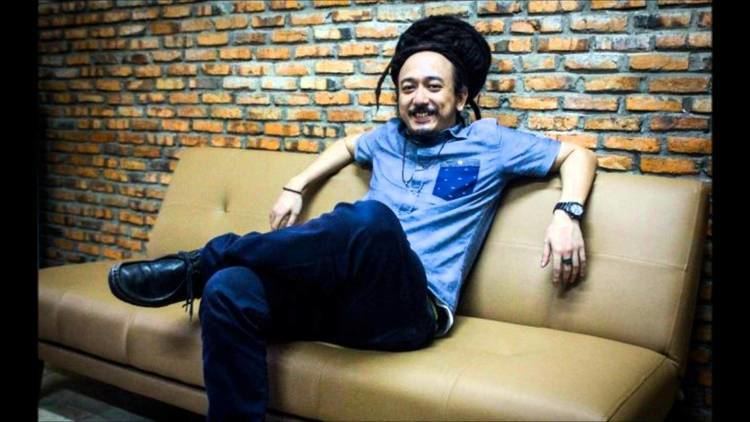 Ras Muhamad's style is very clearly rooted in Reggae, but other influences become apparent throughout his seven albums, including ska, punk, hip hop, dancehall, and traditional Indonesian rhythms. With his ability to seamlessly flow between English, Jamaican Patois, and Bahasa, his tri-lingual lyricism has earned him a massive fan-following worldwide.
Throughout his career, Ras Muhamad has resisted falling into stereotypes and musical conventions. In part, he pushes musical boundaries through collaborations with surprising artists and genres. His most notable collaborations include working with big Indonesian pop stars like Glenn Fredly, Tompi, and Element. He also teamed up with Superglad, an Indonesian Punk band, and worked with Indra Lesmana, a jazz musician.
In an interview for Wow Shack, Ras Muhamad described his spiritual approach to music:
As a Reggae artist, the message has to be there, especially about positivity. Especially about raising awareness, not just raising the consciousness of ourselves, but the place and the environment we are living in. We are living on planet Earth and we need to take care of it. Reggae music carries that vibration of the earth.
Ras Muhamad, Indonesia's world-famous Reggae artist, is expanding the world of Reggae and serving to put his home country on the world music map. As he told Irie magazine, "This life-long journey that I hope to carry was not chosen by me. In my heart, Reggae chose me."
SISTER CAROL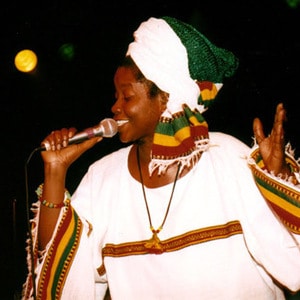 Sister Carol is a powerful female voice in reggae. Born Carol Theresa East, she has performed under many names, including Black Cinderella and Mother Culture. Yet its Sister Carol that has stuck.
Sister Carol was born in Jamaica in 1959 but lived in Brooklyn, New York, with her family by 14. Her introduction to the music industry was at least partially facilitated by her father, a sound engineer for Jamaica's world-renowned Studio One. But it wasn't until a chance meeting with Jamaican DJ Brigadier Jerry that Sister Carol evolved from a singjay to a deekay.
Although more than capable of strong vocals, she began experimenting with dancehall-style DJ chatting thanks to the mentorship from Jerry. In this space, Sister Carol launched into her reggae career and changed the face of the industry.
Liberation for Africa, her first album, came out in 1983 on limited release. In combination with wins at several competitions, both in New York and Jamaica, she was invited to tour with The Meditations.
Only a year later, in 1984, she released her second album, Black Cinderella, which hit all the right notes and put her on the map for the reggae community.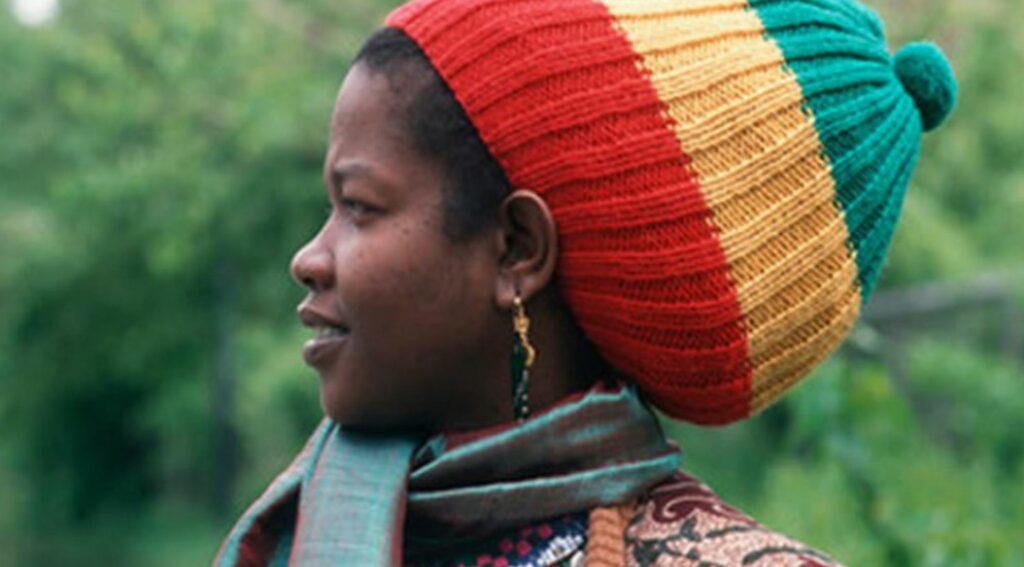 Throughout a total of 12 albums, spanning more than three decades, her work has remained empowering, feminist-leaning, yet firmly tied to the core Rastafarian beliefs. With politically powerful messages baked into every album, her sound is remarkably upbeat, melodic, and as her album 1996 underlines— Lyrically Potent.
She has explored dancehall, dub, and roots riddims throughout her career but has always stayed true to the classic Jamaican reggae traditions. Unlike modern iterations of reggae, Sister Carol has kept "the drum machines at bay, and the down-home righteous Rasta talk […] straight and true," according to Dan Maryon.
She remains one of the few women to truly "make it" as a DJ in the reggae world. As one critic noted, "In a genre so often awash in a tidal wave of testosterone, it's always refreshing to hear from a woman, and no female reggae artist has more to say or the ability to say it more convincingly than Sister Carol. "
---

---
To see previous featured artists click HERE or select "Featured Artist Archive" from the main menu.
Contact us HERE. Go to the schedule HERE. See who we are HERE
---

---
Page copyright 2019-2021 dreamfm.org