Dream 102.9 plays Worldbeat, Reggae, Latin, Dub, Chill & more……
Download the free radio.net app & listen to us on your apple or android phone !! Find both versions HERE.
---
Dream 102.9 FM Featured Artist
Every month Dream FM takes a closer look at some of the artists or bands in our playlist.
This month we are taking a look at Barcelona based, flamenco infused Ojos de Brujo.
OJOS DE BRUJO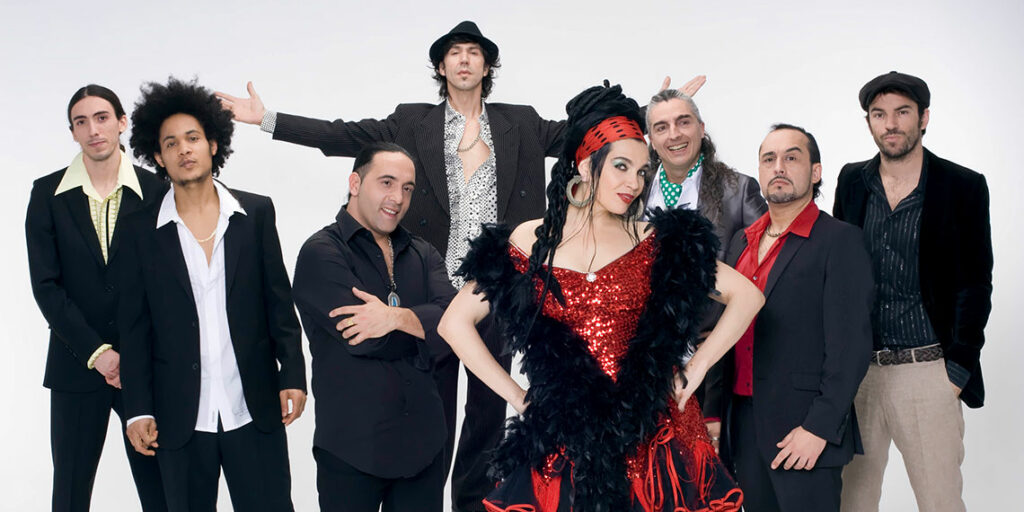 Ojos de Brujo (English translation "Eyes of the Wizard")' blew open the world of flamenco with their debut album Vengue in 1999. In the beginning, the eleven-member ensemble originally had flamenco purists up in arms. Purists perceived this upstart Catalin musical group as a radical interpretation of the traditional music style. However, flamenco wasn't exactly what this group was trying to pursue. 
As percussionist Xavi Turull explained, "…we aren't trying to do flamenco. What we are doing is using the richness of flamenco and the richness of other music to build up something different. Maybe sometimes I would say that flamenco is the strongest ingredient, but we aren't trying to do flamenco."
In the early 2000s, legions of fans from around the world overcame the few upset flamenco purists. An Ojos de Brujo live show became the sort of event legends were made of. The band's shows were always sold out, no matter what corner of the world they played in.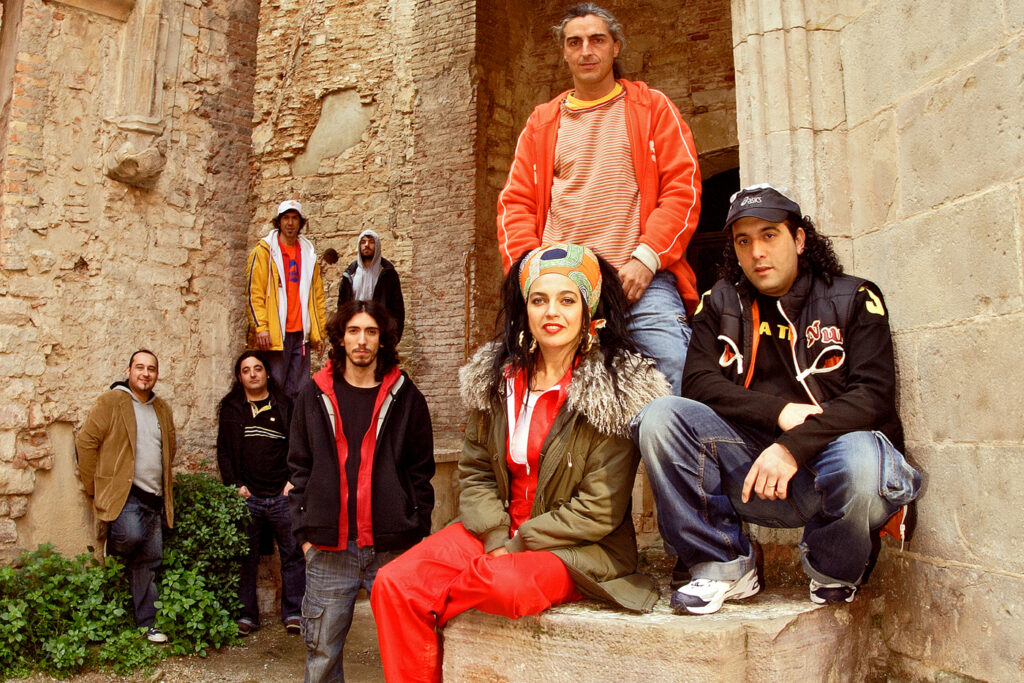 During Ojos to Brujo 11 year existence, their approach blended electronica and world beats with strong flamenco rhythms and percussion. They connected old-world traditions with the evolution of music unfolding all around them in the streets of Barcelona. In part, the signature flamenco influence came from lead vocalist Marina "la Canillas" Abad, but these notes were infused with funk, samba, reggae, and electronic sounds.
Following their debut album in 1999, the group released another nine. They released Bari (2002, and a remix in 2003) at the peak of their success, followed quickly by Techarí (2006, plus a live edition in 2007).
The group used their global platform to highlight issues facing cultural minorities, including that of the Roma people. Many of the band members were of Roma heritage. Through Marina's lyricism and the musical incorporation of traditional beats, the group worked to fight back against globalization.
Ramon, Ojos de Brujo guitarist, explained to Six Degrees Records, "We think every minority culture has something special to offer, and we shouldn't lose all this wisdom from all these ancient cultures all around the world." He went on to explain, "Gypsies are losing their Romany languages because no one is doing anything to help preserve them. They've always been repressed. By using gypsy words which have been nearly erased from the current vocabulary, we support Ramon in not letting his culture disappear."
In 2010, Ojos De Bruju released their final album "Corriente vital 10 años." The band wrapped up a whirlwind decade of musical evolution with an extensive world tour. Many members, including Marina (now Mariah), have gone on to pursue solo projects.
Recently Featured Artists
BUNNY WAILER
In March we put together a special tribute to Bunny Wailer, a Reggae legend who passed away on March 2nd, 2021, at 73.
Bunny was a founding member of The Wailers, alongside his Kingston friends and neighbours, Bob Marley and Peter Tosh.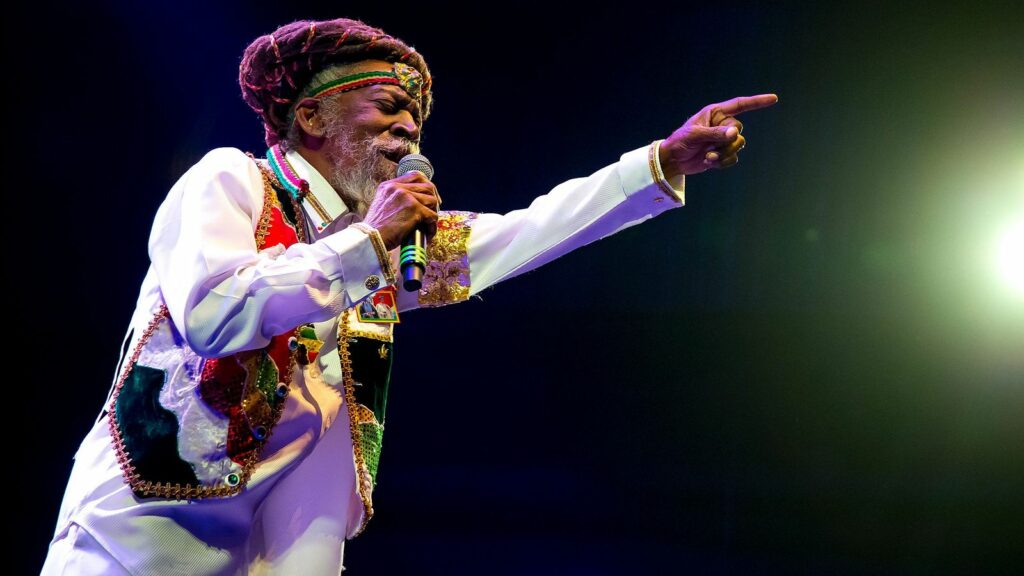 This month we have put together a special tribute to Bunny Wailer, a Reggae legend who passed away on March 2nd, 2021, at 73. Bunny was a founding member of The Wailers, alongside his Kingston friends and neighbours, Bob Marley and Peter Tosh.
Bunny, born Neville Livingston, grew up in what one news story called the 'village' of Nine Mile in Saint Ann Parish. In reality, Nine Mile was a notorious slum on the outskirts of Kingston. This landscape influenced much of his musical career and guided many of his religious and spiritual messages heard in his songwriting.
The Wailing Wailers came together in 1963 with Marley, Tosh, and several other notable names (Junior Braithwaite and Beverley Kelso). The Wailers quickly became international Reggae superstars, touring North America and Europe. While Marley frequently sang lead vocals, Bunny's lyricism crafted many of their greatest hits, and his beautiful harmonies can be heard across all the Wailers' work.
The New York Times interviewed Vivien Goldman, author of "The Book of Exodus: The Making and Meaning of Bob Marley and the Wailers," about Bunny's place within the Wailer's famous trilogy. Goldman explained, "Peter Tosh was the real militant one, then Bob was the poetic revolutionary humanist," and "Bunny was regarded as the spiritual mystic."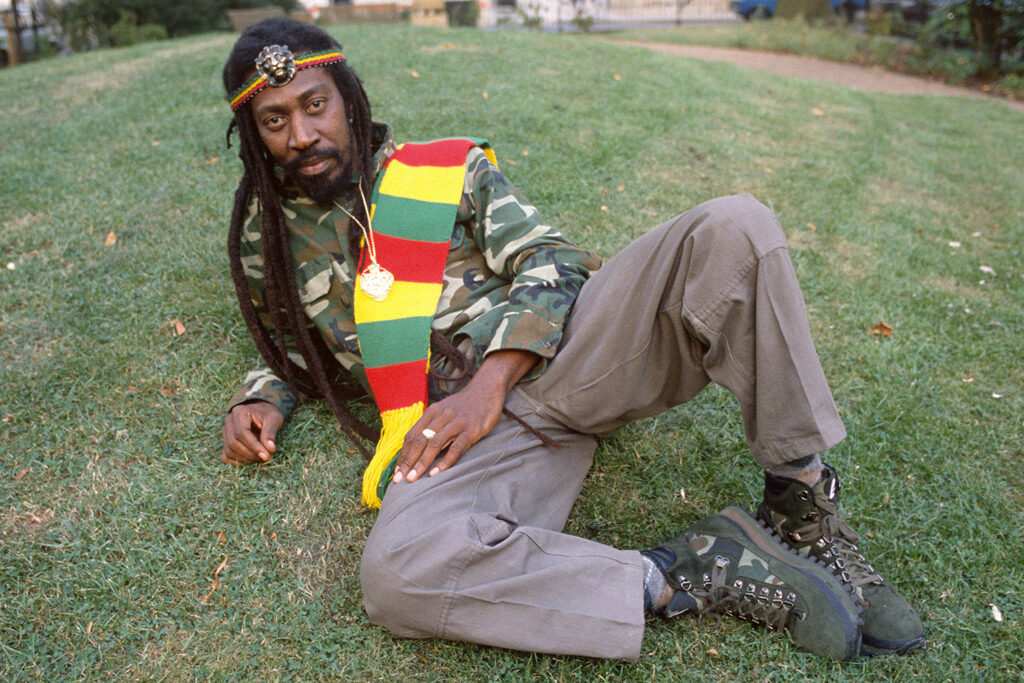 Bunny wrote one of his most famous pieces during his decade in the Wailers. "Dreamland" became one of his signature hits and, clearly, one of his favourites. He re-recorded it and released it under Blackheart Man, a solo album from 1976.
When Bunny quit the Wailers in 1973, he went on to become a prominent and prolific Reggae artist in his own right. Starting from his 1976 solo album, Bunny released 25 albums over the following decades. While many stayed true to the traditional Reggae form, he also experimented with disco, rock, and pop.
Over his career, Bunny won three Grammys starting in 1991 for the album Time Will Tell: A Tribute to Bob Marley, followed by another in 1995 and 1997. Other accolades he received in the last few decades included the Order of Jamaica and the Order of Meritt (the country's 4th and 5th highest awards).
Bunny passed away in early March following complications from a stroke in the summer of 2020. Ziggy Marley stated to Rolling Stone after Bunny's passing, "His contribution to our music not only as a member of the Wailers but as a solo artist has been an enormous influence for me personally and to many more around the world. Pass It On."

FRUKO y SUS TESOS
Salsa lovers worldwide are likely very familiar with the Colombia musical group Fruko y Sus Tesos. Fruko and the band have been around in some form or another since 1969. If you are counting, that's more than 50 years of music and 42 studio albums.
Founded and led by Julio Ernesto Estrada (or Fruko), the musical extravaganza of Fruko y Sus Tesos has become a staple for salsa dancers all around the world. Their international tours, of which there are more than a dozen, are religiously attended by their global fan base of salsa aficionados.
Estrada's original inspiration for creating a salsa group was following a trip to New York City in 1968 with Lisandro Meza's popular group, Los Corraleros de Majagual. Estrada's interpretation of big city lights and the exploding salsa scene of the late 1960s has inspired more than half a century of music.
But Fruko is only one aspect of a many-member group. The name Fruko y Sus Tesos translates into "Fruko and his treasures." But who are these many treasures?
Over the years, the lineup of musical additions has included Edulfamid Molina Díaz, Gustavo Garcia, Joe Arroyo, Joseito Martinez, Julio Ernesto Estrada, Piper "Pimienta" Diaz, Rafael Benítez, Rodolfo Aicardi, and Wilson Saoko (among a few others). Over the decades, many of the band members have gone on to lead internationally successful musical careers of their own.
No salsa collection is complete without at least one (if not twenty) of Fruko's many albums. One of their most popular hits, even outside of salsa, is "El Preso." Fruko has called "El Preso," "un himno mundial de la salsa." Translated to "a world anthem of salsa music."
In 2018, Billboard named "El Preso" one of the most influential salsa songs of all time. As the critic noted, this "1975 anthem is the most liberating Salsa song about prison ever recorded."
To this day, Fruko y Sus Tesos continues its salsa-legacy in Colombia and beyond.
Watcha Clan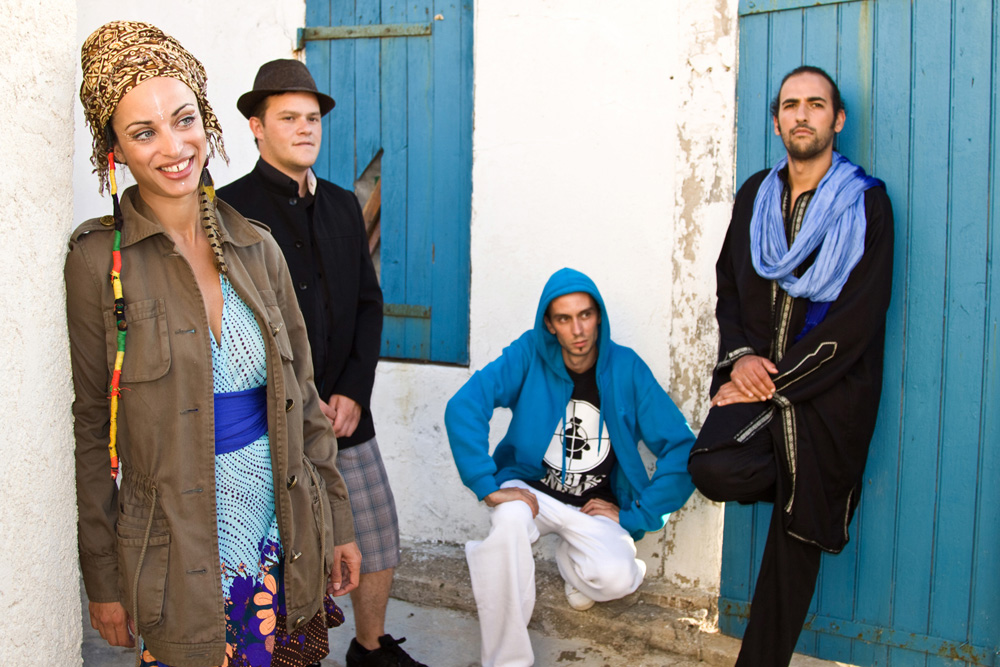 Watcha Clan hails from Marseilles, France borrowing acoustic inspiration from electronic, reggae Balkan brass and Sephardic folk. This four-piece group comes from a diverse cultural, ethnic, and religious background, musically circling the globe several times over.
Sista K leads the group with vocals and dancing. Suprem Clem provides electronic supports from the board, with sampling, programming, keyboards, and the accordion. On the gumbir and guitar is Nassim, with Matt Lebasse on double bass and guitar.
The attraction tempered into every Watcha Clan album is the dynamic yo-yo between several genres, all without missing a beat. That means one album contains a world of sound, connected through show-stopping lyricism from Sista K and a connective, danceable beat.
Part of the Watcha Clan's phenomenon is their ability to melt together a world of language. Expect to hear Arabic, Hebrew, Spanish, Yiddish, Tamashek, French, and English — often combined within a single song.
Since Watcha Clan's inception in 1999, they have released seven studio albums, including Le Bastion, Diaspora Hi-Fi, and their latest in 2011: Radio Babel.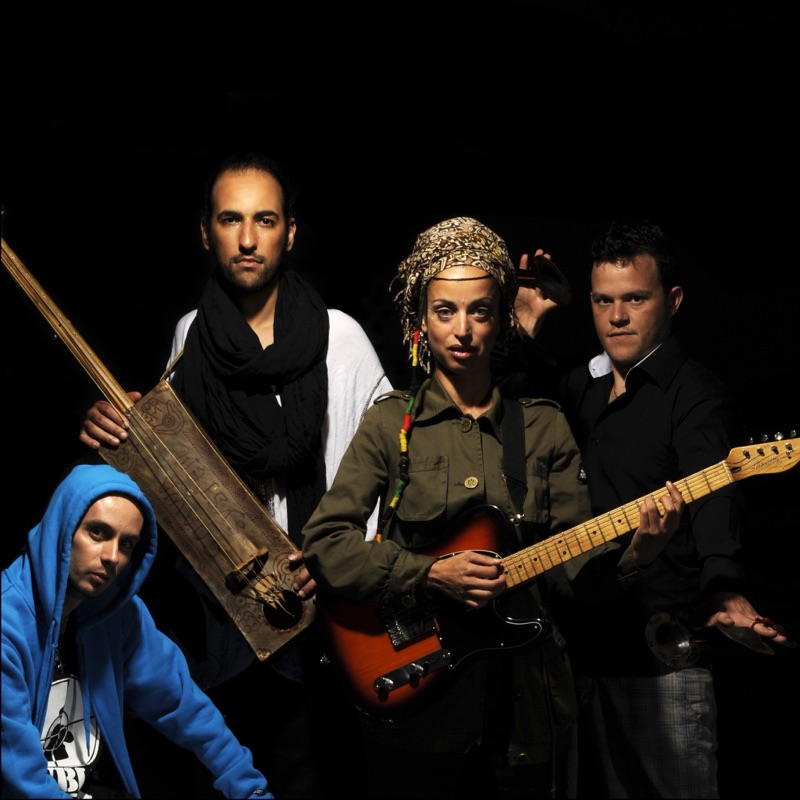 Radio Babel is the most eccentric blending of sound yet. As one reviewer put, Radio Babel pulls in influences "From the Eastern European melodies that [Sista K's] mother sang to her when she was little; to the chaabi, the Algerian blues that Nassim, the "khouya" (brother) from Oran, introduced them to; to the hip-hop kick that appeals to Clem, the Clan's music man and sampler extraordinaire."
Following the Radio Babel Tour in 2013, the band has been on an indefinite hiatus to pursue individual projects. In 2016, Sista K released her debut solo album under the name Siska. It was produced, of course, by her long time bandmate Suprem Clem.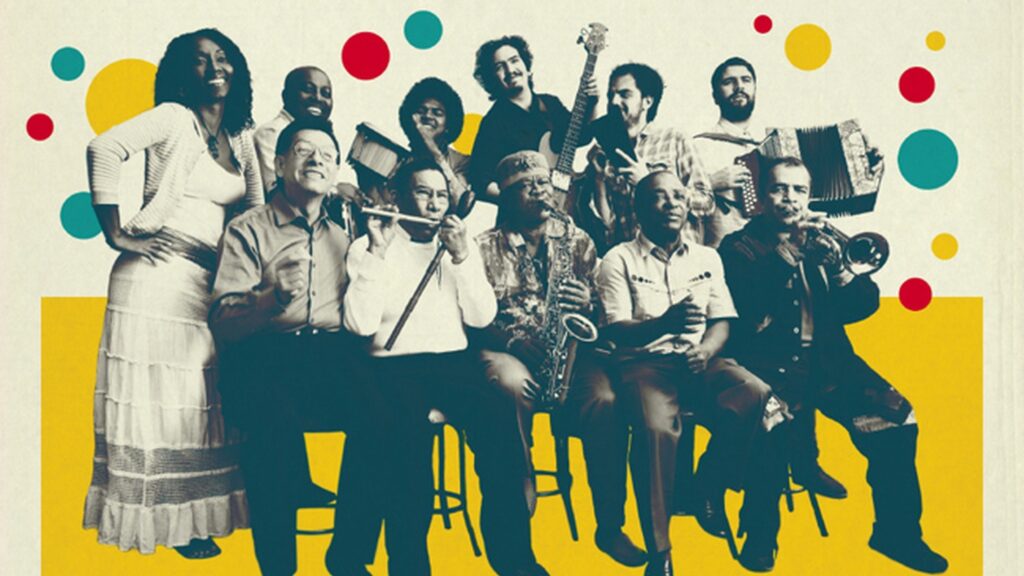 Ondatropica
Ondatropica is a hard-to-describe supergroup with an ever-evolving musical line up of talent. Founded by two remarkable individuals, Will Holland (aka Quantic) and Mario Galeano, this powerhouse of sound encompasses hip hop, punk, electronica, jazz, salsa, afrobeat, cumbia, and just about everything in between. "Onda" means soundwave. Ondatropica is, therefore, a Colombian jam session that smoothly incorporates influences from all around the world.
The first collaboration led by Holland and Galeano under the name Ondatropica came about in 2012 and was recorded at Discos Fuentes studios in Medellin. The duo initially set out to "explore and expand the tropical sound of Colombia in its rawest form, and to marry it with the cool sound of London." By the release of this first studio album, the group had accomplished so much more.
Their 2012 self-titled album is the collaboration of more than 40 world-renowned artists pulled from all corners of the planet. Notable names include Nidia Gongora (vocal), Wilson Viveros (percussion), Michi Sarmiento (saxophone), Eblis Alvarez (guitar), Ana Tijoux (vocals), Jorge Gaviria (trumpet), and Alfredito Linares (piano).
Every track is a surprising musical journey that beautifully blends world-beats without missing a single one. Holland and Galeano produced an album encompassing just about every sound, culture, and voice — that managed to come out deliciously cohesive.
The following year, a ten-piece ensemble from some of the original 40 musical contributors toured across the Americas and Europe. The years that followed included several EPs, but eventually, Holland, Galeano, and the rest of the artists broke to work on their individual projects.
In 2015 Holland and Galeano reunited in Colombia for another round, working from Bogota and the Colombian island of Providencia. In 2015 Ondatropica released another fantastically eclectic album, this time focused intentionally on Afro Caribbean sounds and culture.
While Ondatropica came across like a beautiful, if accidental musical collaboration, Baile Bucanero sounds much more purposeful and thoughtful. In one glowing review, Culture Trip explained, "Baile Bucanero is perhaps an even more cohesive record than their first, and further confirms the incredible depth of musical talent and innovation present in Colombia."
In 2020, Ondatropica released an EP entitled Noche de Amor featuring Juancho Vargas on piano. Beyond this small offering, is there more Ondatropica in the future? Supergroups are challenging enough, but the global pandemic has made international supergroups even more difficult to pull off. Until international travel returns, and future Ondatropica plans are likely on hold.
---

---
To see previous featured artists click HERE or select "Featured Artist Archive" from the main menu.
Contact us HERE. Go to the schedule HERE. See who we are HERE
---

---
Page copyright 2019-2020 dreamfm.org