---
>>November 25, 2019. This week's featured artists are the Cuban/Malian duo of Roberto Fonseca & Fatoumata Diawara. Scroll down to learn more !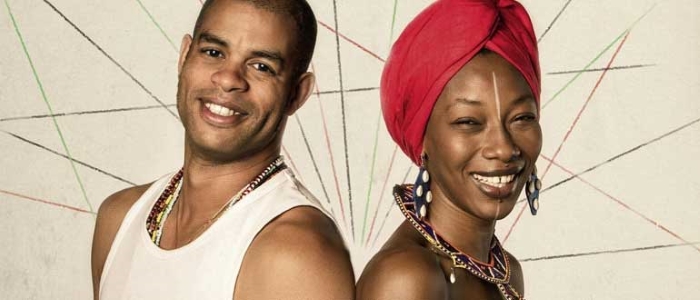 Fatoumata Diawara is a Malian singer-songwriter and Roberto Fonseca is a renowned Cuban pianist who have been performing together since 2014. Fatoumata Diawara, born in 1982, has been living in France since 1999. She initially involved herself in theatre and film before learning the guitar, composing her own material and writing songs that blend Wassoulou traditions of southern Mali with international influences. Noted for her rich sensuous voice, she has performed and recorded with numerous Malian and international greats and has toured every continent. Her debut album 'Fatou' was released in September 2011.
Roberto Fonseca, born in Havana in 1975 is a Cuban jazz pianist. From an early age, Fonseca was surrounded by music; his father was drum player Roberto Fonseca Sr. & his mother, Mercedes Cortes Alfaro, was a professional singer. After an early interest in drums, Fonseca switched to piano at the age of 8, and by 14 was experimenting with fusing American jazz and traditional Cuban rhythms; he appeared at Havana's Jazz Plaza Festival in 1991 when he was only 15. He obtained a masters degree in composition from Cuba's Instituto Superior de Arte and then left Cuba to find his sound. He has since toured the world with the Buena Vista Social Club and has recorded with other well known Cuban musicians. He released several solo albums between 2008 and 2014, after which he began his collaboration with Fatoumata Diawara. Their first album together was At Home – Live in Marciac.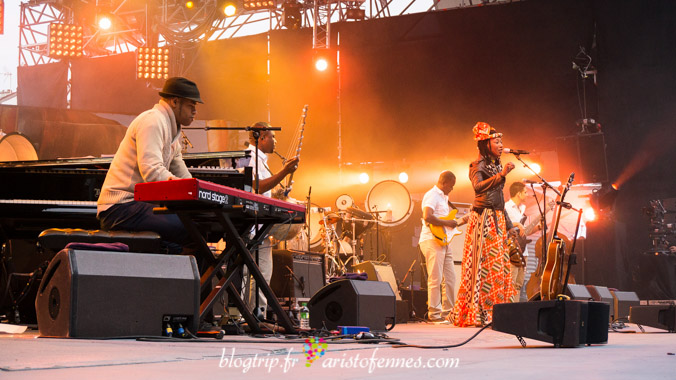 Check out Roberto Fonseca & Fatoumata Diawara performing the song "Sowa" HERE.
---

---
>> November 19, 2019 This week's featured artist is Jamaican reggae sensation Sister Carol. Scroll down to learn more !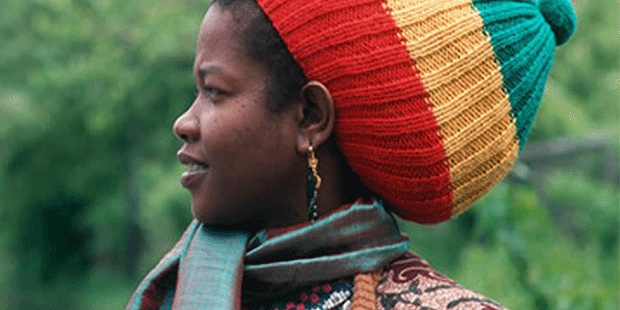 Sister Carol was born in Kingston Jamaica as Carol Theresa East on January 15, 1959. She lived in Brooklyn New York after moving there with her family at the age of 14. In 2018 she moved back to Jamaica and currently lives there in the village of Saint Mary. She has used several stage names over the years, including Black Cinderella (also the name of her record label) and Mother Culture, before settling on Sister Carol. Her father Howard East was a Senior Engineer with Radio Jamaica and contributed to her early recording sessions at Studio One.
She earned a degree in education from the City College of New York in 1981, the same year she gave birth to her first child. Around that time she met Brigadier Jerry, a Jamaican DJ, who encouraged her to try DJ chatting in Jamaican dancehall style, rather than singing. Sister Carol has been a huge inspiration for women in reggae. Her music is rich with cultural heritage and infused with a vital social consciousness.She later toured with The Meditations before releasing her first album, Liberation for Africa, in 1983, as a limited edition. The follow up 1984 album Black Cinderella. established her as a formidable force in reggae music.. In the mid 1980's she formed her own record label, also called Black Cinderella with a number of other albums released on that label. Sister Carol is one of only three female reggae artists to ever be nominated for a Grammy .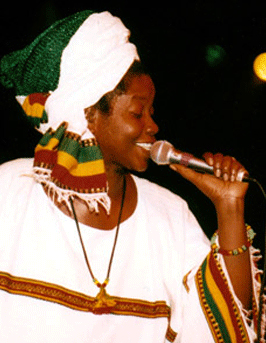 Check out Sister Carol's song "Herbal is Natural" HERE !
Start writing or type / to choose a block
---

---
>>November 3, 2019. This week's featured artist is the highly acclaimed Colombian band Bomba Estereo. Scroll down to find out more !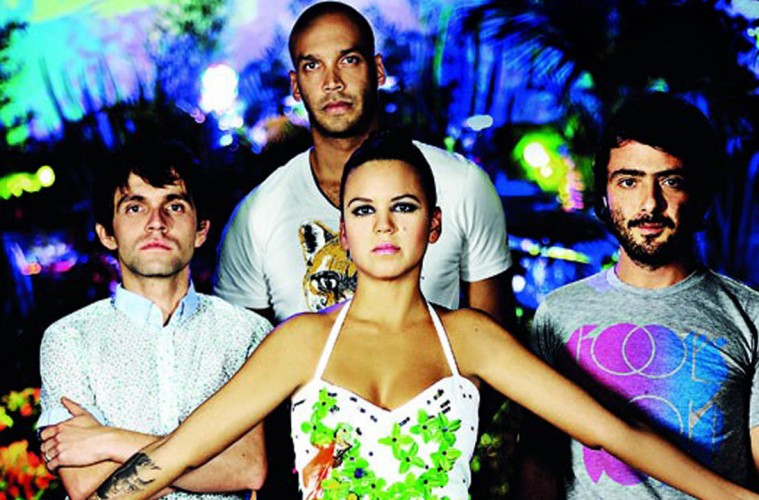 Bomba Estéreo is a Colombian band founded in the capital, Bogotá, in 2005 by Simón Mejía. Their music has been described as psychedelic cumbia. Bomba Estereo translates into English as "stereo bomb" and is also a Colombian term for a really cool and awesome party. Founder Simón Mejía was previously a member of the 1990s Colombian alternative rock band Charconautas, a group whose music was influenced by Colombian groups such as Sidestepper and Bloque de Busqueda who in the late 1990s had started combining traditional Colombian musical rhythms such as salsa and cumbia with modern electronic dance and techno beats and sounds.
Santa Marta-born singer and rapper Liliana "Li" Saumet joined Bomba Estereo at its founding in 2005. Saumet had briefly been the singer for the dub reggae band Mister Gomes en Bombay before meeting Mejía at a concert. Impressed with Saumet's voice, Mejía began a collaboration with her on songs for the first Bomba Estéreo album. Bomba Estereo is influenced by music from many parts of the world, but they are proudly Colombian at heart. "We are a hybrid culture," says the band's founder, Simón Mejía, "We come from Africans, Indians and whites. We have European influences and we have Arabic influences."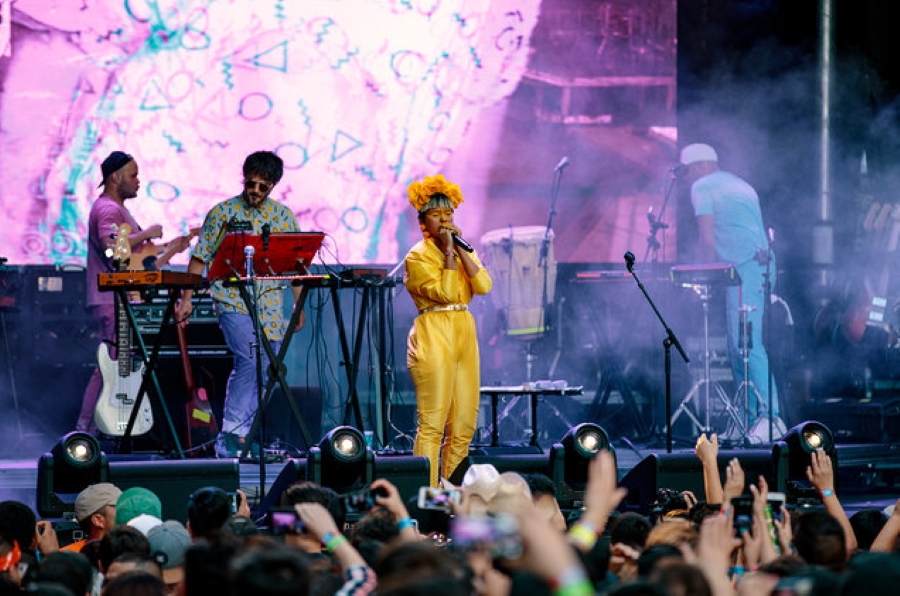 Check out the video for Bomba Estereo's song "Somos Dos" HERE
---

---
>>November 3,2019. This week's featured artist is Bassekou Kouyate & Ngoni Ba, from the landlocked desert country of Mali. Scroll down to learn more !
Bassekou Kouyaté is a musician from Mali. His band is known as Ngoni ba. He was born in Garana, Mali in 1966. At the age of 12, he started playing the Malian instrument known as the ngoni. In the late 1980s he moved to Bamako, the capital city of Mali. Kouyaté's debut albumSegu Blue was released internationally in 2007, leading to performances in several European nations. He has also toured with Toumani Diabate and appeared on a number of his albums. He has also toured with American "newgrass" legend Bela Fleck. His father , Mustapha Kouyaté was also a ngoni player. Kouyaté's wife, Amy Sacko, is a successful solo artist in her native Mali as well as singing lead in Ngoni Ba.
The ngoni or "n'goni" is a string instrument originating in West Africa. Its body is made of wood or calabash with dried animal (often goat) skin head stretched over it. The ngoni, can produce fast melodies, and in modern times has often been electrified and played through an electric guitar amp, complete with effects. The ngoni is known to have existed since at least 1352, when Ibn Battuta, a Moroccan traveller reported seeing one in the court of Mansa Musa. It is believed to have evolved into the banjo in North America after Mande slaves were exported there.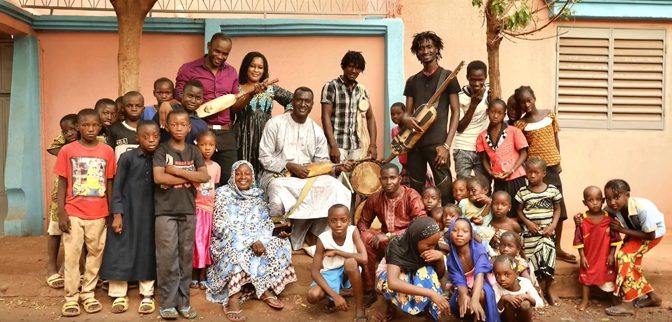 Check out Bassekou Kouyate & Ngoni Ba with Abe Sumaya HERE
---

---
>> October 27, 2019. This week's featured artist is the French artist Jain. Scroll down to learn more !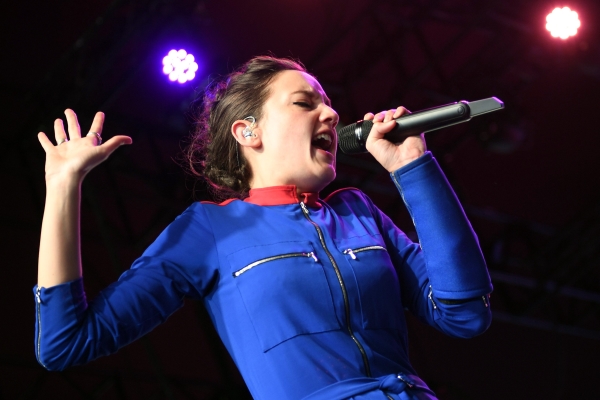 Jain was born in February 1992 as Jeanne Galice in Toulouse, in the southwest of France. When she was nine, her family relocated to Dubai for her father's work in the oil industry, which also took her to Congo and Abu Dhabi. It was in Pointe-Noire, Congo, where she lived from ages 12 to 16, that she began making music. Her big sister started playing guitar and taught her a few chords. Jain wrote "Come," a catchy, acoustic foot stomper, and met a local producer who called himself Mr. Flash. He helped her make a cheap demo which was picked up by a French producer and began her musical career, with her first album coming out in 2015. Her music effortlessly blends elements of pop and electronic music with Arabian and African rhythms and influences and her own unique sense of style. Onstage, she often performs solo, creating intricate pieces through the use of a looping pedal and samples. The artists she looks up to most these days include Kendrick Lamar and Childish Gambino, and she still enjoys what she calls "classical" albums by Michael Jackson and Otis Redding. Another influence comes from her time in Abu Dhabi and Dubai, where she heard lots of Bollywood music. Her latest favourite is the Lebanese artist named Fairuz. "She's a legend in the Arabic world, and she has a beautiful voice," Jain says.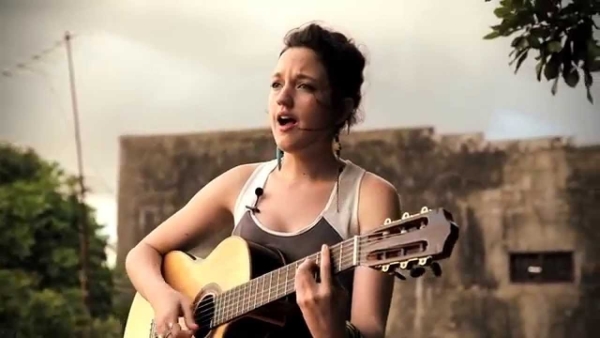 Check out Jain's official video for 'Makeba" HERE
---

---
>>Oct.20, 2019
This week's featured artist is London based saxophonist Nubya Garcia. Scroll down to find out more !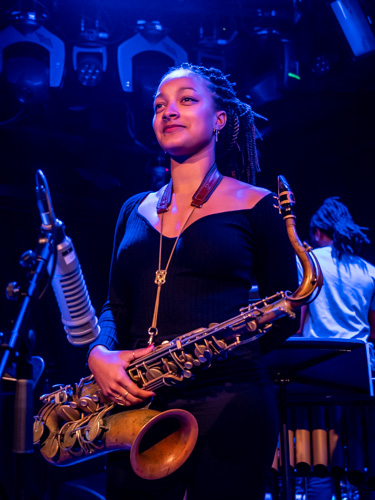 Nubya Garcia, is a saxophonist and composer and one of the leading forces behind the resurgence of jazz-influenced sounds in the United Kingdom. Raised by Caribbean parents in a musically creative London environment she was influenced at an early age by musical sounds of the tropics. Her music is a radical clash of Caribbean rhythms, fusion, and modern electro-jazz. She is notable for filling nightclubs with large and surprisingly youthful crowds of a demographic normally more associated with pop and electronic music acts than jazz. Nubya Garcia is very much at the forefront of Britain's youth-led jazz explosion, creating futurist bebop and afro-centric jazz that acknowledges the roots of jazz while at the same time creating a new musical future for the music. She frequently appears at jazz festivals on both sides of the Atlantic. Nubya Garcia is an alumna of London's innovative jazz education organization, Tomorrow's Warriors. Nubya credits the program with giving birth to Britain's new jazz explosion.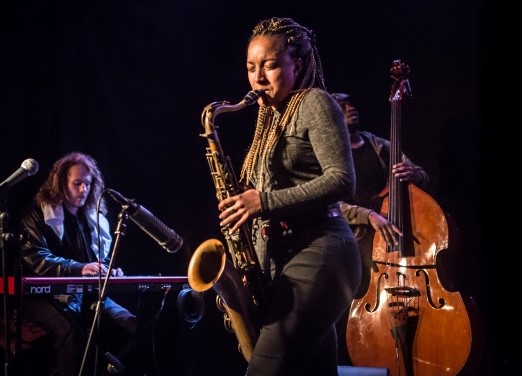 Check out Nubya Garcia in this video HERE
---

---
>>October 12, 2019
This week's featured artist is reggae star Nattali Rize. Scroll down to learn more….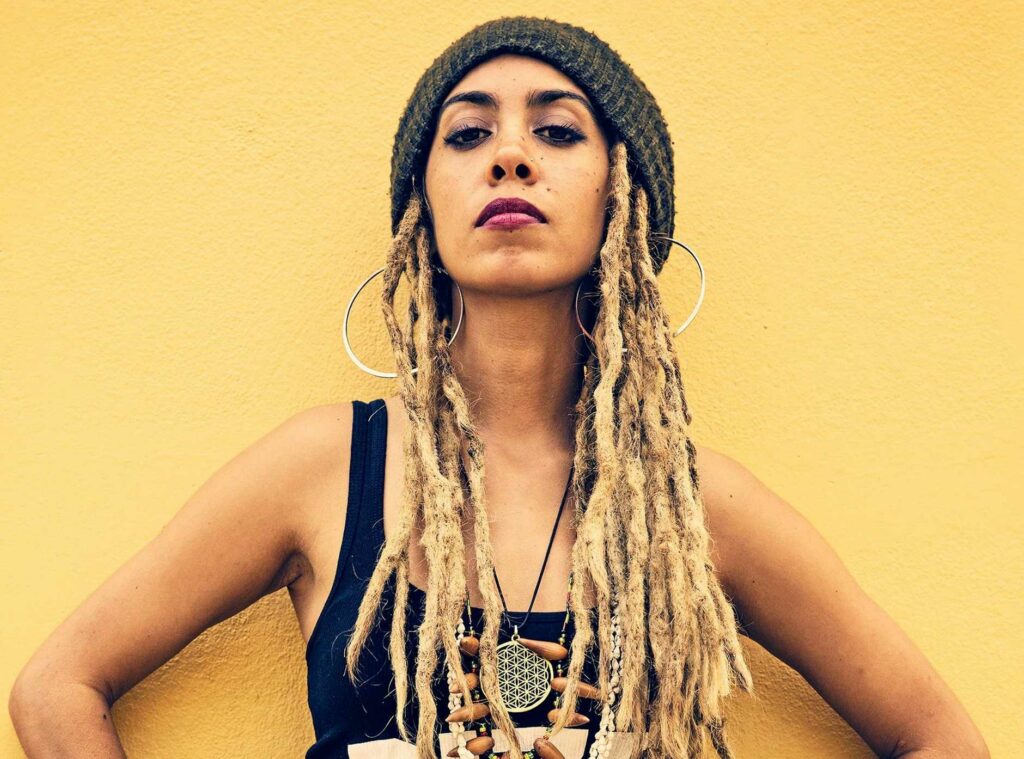 Nattali Rize (born Natalie Magdalena Chilcote) is an Australian-born, Jamaican-based musician, record producer and social activist. Her musical career began in 2003 when she formed the urban roots music band Blue King Brown with Carlo Santone. Later, in 2014, she moved to Jamaica and began a collaboration with local reggae group Notis. Together they recorded the hit single "Rebel Love". This initial success was followed by further collaborations with Jamaican musicians including Julian Marley; resulting in two more albums by 2017. She is well known on the reggae circuit for her epic, high energy, thought provoking and uplifting live performances. Reggae music has seen the emergence of a remarkable amount of talented female artists since the Roots Revival Movement around 2011 started to gain serious attention. New artists such as Nattali Rize have made significant inroads in the male-dominated reggae industry, becoming highly successful artists in their own right.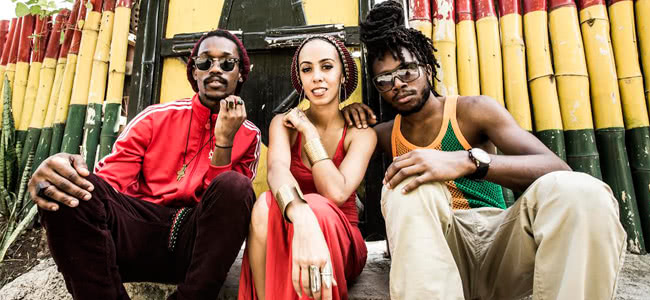 Check out Nattali Rize's hit track "Rebel Love" HERE
---

---
>>October 5, 2019
This week's featured artist is the Chilean band Newen Afrobeat. Scroll down to learn more……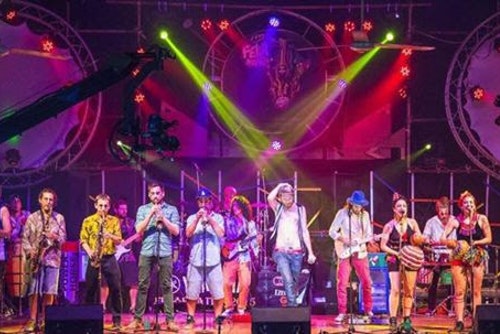 The Chilean band Newen Afrobeat was founded in 2010. Initially inspired almost solely by the music of the renowned afrobeat artist Fela Kuti, they have evolved to include influences from Latin music and the native cultures of Chile. The word Newen means 'strength' in the native Chilean Mapuche language. In addition, their live performances are heavily influenced by Mapuche dance and culture. The band was founded by Tomas Pavez & Nicolas Urbina. Pavez was born in Santiago, Chile, in 1987 and is a self-taught musician. He plays clave (jam blocks, wood blocks, and cowbell), Kpalongo-style Nigerian drums, and shekere. One of the most exciting bands to come out of South America in the last ten years, Newen Afrobeat surely have a bright musical future ahead.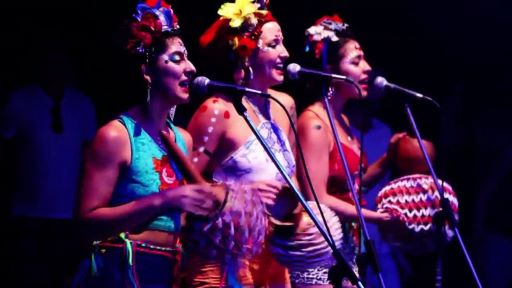 Check out an amazing live Newen Afrobeat track HERE
---

---
>> September 28, 2019
This week the featured artist is Oum, from Morocco. Scroll down to learn more….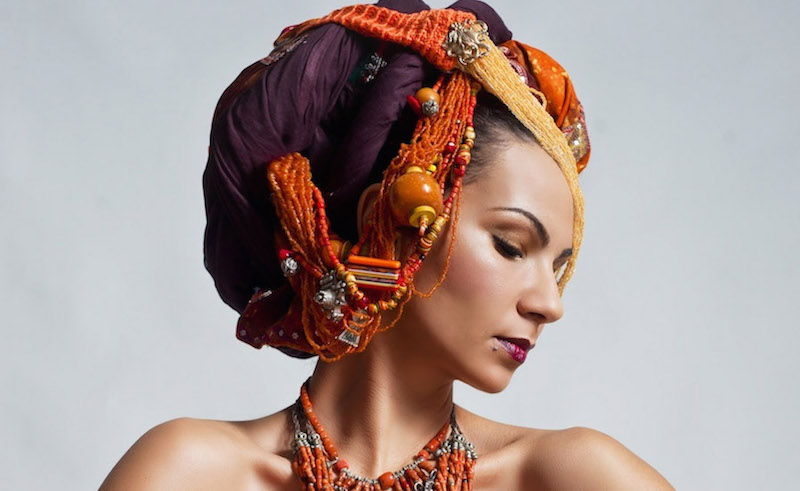 Start writing or type / to choose a block
Easily recognized by her elaborate head wraps and captivating stage presence, Oum El Ghaït Benessahraoui, better known as Oum, is a Moroccan singer-songwriter born in 1978 in Casablanca, Considered an ambassador of Moroccan culture, She mixes hassani, jazz, gospel, soul, afrobeat and Sufi music influences in her songs. Most of her songs are about love and sensuality, but she also strives to show through music how much Morocco is the gateway between Africa and Europe. As well, her music often touches on the subject of globalization. Oum grew up singing in choirs and wrote her first song at 17. After going through architecture school, Oum decided to dedicate herself to music, initiating her career in the early 2000s with songs in English and Moroccan Darija. Now, she is a highly respected member of the world music diaspora.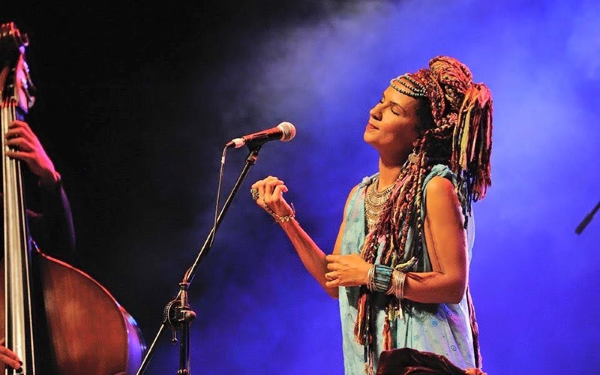 Listen to a sample of Oum's music HERE or HERE
---

---
>>September 20, 2019
This week's featured artist is Saodaj'……
Saodaj' is a group from Reunion Island, located in the Indian ocean several hundred miles from the east coast of Africa. Their name originates from the Portuguese word saudade, meaning melancholy. Inspired by traditional maloya, these five musicians blend influences from West Africa, Europe and Australia, including the use of the didgeridoo. Saodaj' place their crystal clear voice and island rhythms in the great concert of globalized music. Saodaj's rhythms and melodies make people dance as though in a state of hypnotic trance.
Image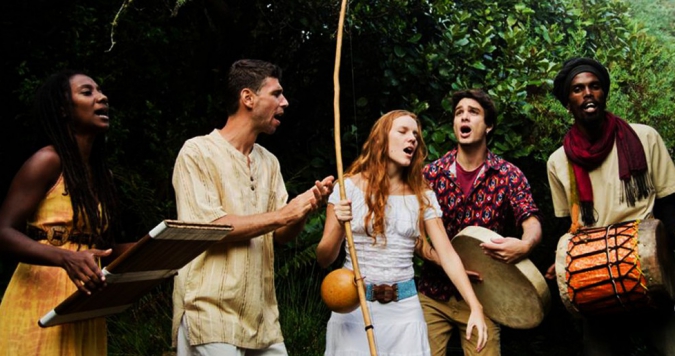 Listen to a sample of Saodaj's music HERE
---
Contact us HERE. Go to the schedule HERE. See who we are HERE
---

---
Page copyright 2019-2020 dreamfm.org